Even though I prefer the large screen size of a Samsung Note 3, in some situations I'm hesitant to risk running out of battery using the phone as a GPS or damaging/losing the phone, and having no more phone for some trip.
Additionally the ergonomics of using the Note 3 on bike handlebars isn't very good (sun and entering security code to access phone)
I long avoided this situation by using a Garmin etrex Vista HCx, but that device finally entirely stopped working after years of use.
So reluctantly (knowing screen size and performance of modern phones), but wanting a device to see current speed on the bike, and recording a multi-hour track biking, skiing or hiking, I bought a Garmgin etrex 30x.
etrex 30x positive:
+ Meets purpose of saving phone for phone use, while recording a track during the day
+ Fairly lightweight for standalone, waterproof GPS
+ Upgrade price possible for SwissMaps 2.0 to 4.0
+ Somewhat high res screen, readability ok in some sun situations when hand-held (easily adjust angle)
+ Bike mount seems to hold ok even for mountain biking and fast shocks road riding, even if in practice the mount isn't totally clamped down (you can adjust by hand still)
+ Longest battery life of most of the Garmins, and takes AA so you can have an extra pair rechargeable ready.
etrex 30x negative:
– Refresh time is really slow moving/zooming map (example 5-10 seconds to get screen refresh of SwissMap raster map, zoomed to 300m level, just moving one screen size over)  This was expected given Garmin technology and pricepoint of this device, but really not acceptable in 2015.  Note that the refresh time keeps up fine with biking and hiking speed, you will always be centered on the map.
– Screen scratches really easy.  Just plastic, not anything resistant.  Recommend to put protector before you use.
– Font smaller than necessary for 2 main display fields (in particular for use on bike handlebars)
– Bike mount somewhat big/ugly (much bigger than for etrex Vista)
– Weight of extra device adds up with other gear, in particular for non-bicycle use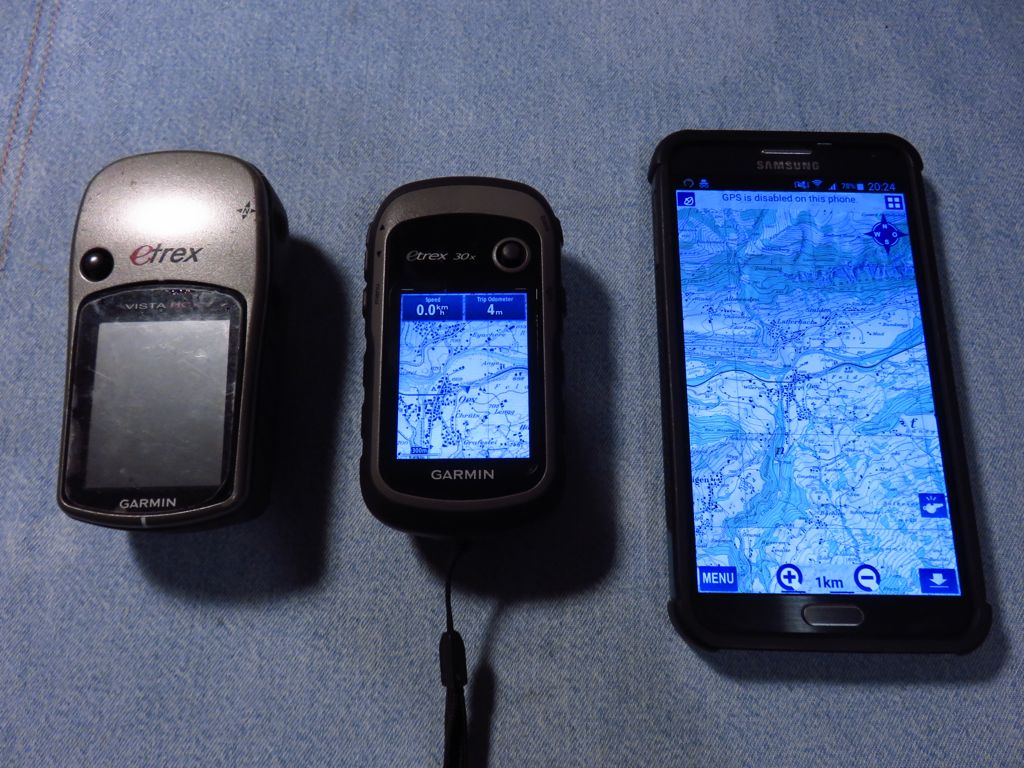 Samsung Note 3, with Apemap software, positive:
+ Wonderfully larger, useful screen
+ Download tracks from the web/email on the fly and display right away
+ Download and easily use OpenStreet maps
+ Quickly replace the battery (compared to other phones)
+ No screen protector, no scratches yet, after 1+ year use
+ Pretty good option for occasionally consulting where you are
Samsung Note 3, with Apemap software, negative:
– Unpredicatably crashes/reboots during long usage, making it unreliable to record a track and expect to have it at the end of the day
– Run out of battery life using for GPS purposes, and no extra batteries means no more phone use  (very approximately uses about 50% of battery for 4 hours of recording and occasional consulting, depends on battery condition, if you've put airplane mode, etc.)
– Readability of screen in sun is difficult
– Annoying to enter security code to consult GPS
Other options:
GPS mapping watch, such as Garmin Epix:
optimal goal
but I'm not going to spend a premium for a V1 product that is certainly very slow for map panning in it's first version and possibly buggy
A second phone:
between the two phones decide one is GPS (remove security code, etc.) and the other is the phone.
doesn't guarantee a solution to easy bike mounting and ergonomics
doesn't solve the crashing sw/phone issue, which could be solved in future updates, but just as easily broken again in future updates.
Ipad mini (SIM card version that includes GPS)
even bigger screen, might be more stable
but heavier, expensive, readability and durability outside is questionable
Real map:
When available, still the best for planning!